FORM-GUM is a producer of technical items made of rubber and rubber-metal blend. We are specialized in unit production, according to the specific requirements of the customer.
We manufacture products on the basis of received technical documentation or due to detailed pattern.
Our offer includes:
mould products, vulcanized by hydraulic press
Press parameters:
worktable dimensions:
300 x 300 mm, 400 x 400 mm, 600 x 600 mm, 800 x 1000 mm
Heat board pressure::
from 25 to 400 tons
wide range of materials
silicone,
rubber blends, EPDM, NBR, NR, SBR, FKM, CR
polyurethane
For detailed information, go to materials
technical advisory concerning selection of appropriate material
designing and production of forms with application of own machinery park
production of components made of steel, aluminum, installation materials
turning, milling, grinding, CNC drilling
Our products have a wide range of application in the following branches of industry:
wood
furniture
printing
construction
installation
machinery
food
ship building and other
We possess competitive advantage over other companies because of:
long experience in rubber manufacturing branch
professional staff of technicians and openness for new challenging projects
systematically developed and modernised machinery park
wide range of available materials
comprehensive service in the field of production of rubber elements and steel compounds
We provide our services both to small companies and large industries.
We offer items of highest quality which is confirmed by implemented ISO 9009:2008 system.
technical seals
"O" and "V" type technical seals, flat and other according to customer's requirements; they are used in all branches of industries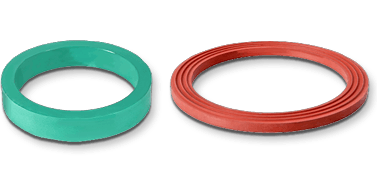 Metal-rubber elements
We produce alloys of rubber, silicone and polyurethane with metal.
We produce and regenerate:
metal-rubber buffers
metal strips and tiles
transport and driving wheels
rubber-metal elements of couplings
rubber-metal dampers
metal-rubber vibration isolators
rubber-metal and silicone-metal bushings
metal-rubber switches
steel shafts and shafts covered by rubber and silicone blends or by polyurethane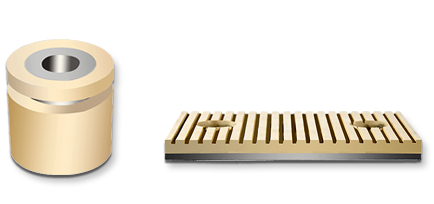 Coupling cylinders
Our offer includes cylinders, clutch bushings of every size and shape:
straight, conical, cubes
H-type cylinders
star-like or sun-like cylinders

Squeegees, suckers i grapples
Components of vacuum technology – we produce the components used to transport metal sheets, wooden panels, glass and other, according to the detailed requirements of a customer.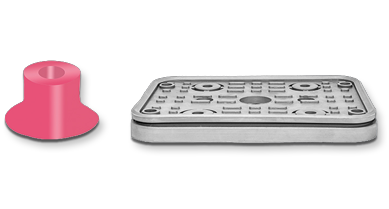 Other elements due to the customer's needs